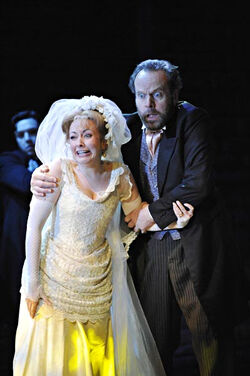 The Wedding Reception is a mostly spoken track that appears on the 1994 Complete Works Gothic Musical Thriller album. It details the final scene of the show, where Dr Henry Jekyll reverts to Hyde for the last time, losing control and nearly strangling his fiancée after breakin the neck of his rival Simon Stride. He manages return to his usual form long enough to beg his friend Utterson to kill him, and he is shot, dying in his beloved's arms.
Difference between versions
Edit
In later versions of the show, Jekyll kills himself by leaping onto Utterson's swordstick. In every subsequent recording, the final scene merely contains Emma's farewell to Jekyll, simply titled Finale.
JEKYLL
 Mrs. Jekyll, may I have this dance?

 LISA
 Doctor Jekyll, you may have every dance.

 UTTERSON
 Henry, what is it?

 JEKYLL
 Don't make a fuss... Terrible pain... Get me out of here... Need to breathe.

 UTTERSON
 Oh, my God!

 JEKYLL
 Oh, God, what now?
 Oh God, not now!
 Help me somehow!
 Please take the pain away!

 Feel it fill me!
 This will kill me!
 Please, God, will me
 Somehow to fight, I pray!

 Oh, God, help me!
 God have mercy!
 Don't let her see!
 Not on our wedding day!

 LISA
 Henry?

 HYDE
 There is no Henry!... Only Hyde!

 STRIDE
 Look at this monster, Lisa!

 HYDE
 And what would you have done with her, Stride? Put her in one of your Camden Town whorehouses and rented her out a shilling a time?

 STRIDE
 Damn you, Jekyll - enough!

 HYDE
 Enough, indeed! End-of-game! We seem to be married, my love! Ready for our bridal bed, are you?

 UTTERSON
 Henry, stay back! Don't touch her! I beg you - stop! Stop now!

 LISA
 Henry! Oh God, Henry...

 UTTERSON
 Lisa, no! Stay back!

 LISA
 Henry, it's me! If this is you, show me!

 SIR DANVERS
 No! Stop him!

 HYDE
 Stay! Or she dies!

 LISA
 Henry, I know you don't want to hurt me! I know you can hear me... Let me go... Henry, please... For us... Let me go... please...

 JEKYLL
 Do it, John. I beg you. Set me free.

 UTTERSON
 I can't, Henry!

 JEKYLL
 We promised, remember?

 UTTERSON
 Forgive me.

 LISA
 NO!

 HYDE / JEKYLL
 Lisa... Lisa... Lisa...

 LISA
 Go to sleep, my tormented love.

Ad blocker interference detected!
Wikia is a free-to-use site that makes money from advertising. We have a modified experience for viewers using ad blockers

Wikia is not accessible if you've made further modifications. Remove the custom ad blocker rule(s) and the page will load as expected.