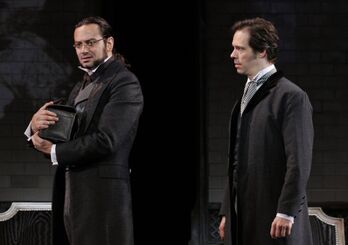 Mr Gabriel John Utterson Esq. is a lawyer, confidant, supporter, and life long friend of Henry Jekyll. He is an upstanding man, regarded well by his peers. Serious, somewhat sombre attitude and not given to laughter or joviality, but has an underlying humour. Likely worked his way up the ranks of society, rather than was born into wealth. He is a gentleman, first and last. Jekyll is his equal both intellectually and in standing and they have an ease when together. He has no pretensions, thus he is not a prude or self-righteous, although can be prudent and cautious when warranted.
Source material
Edit
In the original book Utterson is the character which the narrator focuses on, following his quest to discover the identity of Edward Hyde. Utterson is described as a measured, and at all times emotionless bachelor who nonetheless seems believable, trustworthy, tolerant of the faults of others, and indeed genuinely likeable. However Stevenson in the book hints Utterson has old secrets.
Notable Actors Who Played The Role
Edit
Christopher Carothers- 1986 Demo recording
Philip Hoffman - The world premiere 1990 Alley Theatre production, 1994 Complete Works Gothic Musical Thriller album, and the 1995 First National Tour
George Merritt - portrayed Utterson Through The Entire Broadway Run.
Juan Jackson - 2010 Australasian Tour.
Charles Shirvell - Uk Tour.
David Grimes - 3rd Us Tour.
James Clow - 1999 National Tour
Tomás Bartunek - Prauge, Czech Republic.
Mark McGee - 2nd UK Tour
Laird Mackintosh - 4th US Tour, 2013 Broadway Revival
Ad blocker interference detected!
Wikia is a free-to-use site that makes money from advertising. We have a modified experience for viewers using ad blockers

Wikia is not accessible if you've made further modifications. Remove the custom ad blocker rule(s) and the page will load as expected.